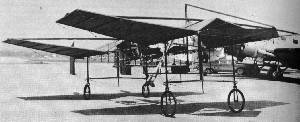 W.W.(William Wallace) Gibson
In 1910, William Wallace Gibson of Victoria - without formal training, designed and built the first successful Canadian aircraft engine.
This truly remarkable achievement, carried out on the basis of his own experiments, was followed by the design and construction of two aircraft of advance design.
The first machine, which Gibson called a "Twinplane". had wings both in front and behind the pilot. Powered by the inventors engine, the aircraft made a successful flight on September 8. 1910, flying a distance of 200 feet at a height of 20 feet.
"The trial was made over the Dean farm in the vicinity of Mount Tolmie. When he did alight the severe concussion fractured the riding wheels of the Twinplane and further flights were delayed for a day or two.In length the Twinplane measures 54 feet with a width of eight feet, while the planes [wings] are positioned lengthwise on the craft and are controlled by a single lever which guides the course of the airship. The planes measure twenty feet each in length and are eight feet wide, supplemented with one hundred springs girded with wire which make the machine indestructible" -
Daily Colonist, Victoria, September 10, 1910.
Regrettably, the publicity that Gibson received led to his being the object of considerable ridicule around Victoria. Though somewhat daunted by this reaction he pressed on and produced a second airplane which was appropriately called the "Multiplane". A large number of airfoils, which looked much like Venetian blinds, provided the lift. Using the same 40-horsepower engine employed earlier in the Twinplane, Gibson hoped to prove that a new type of Iifting surface could be equally effective as more conventional wings. The aircraft flew on several occasions in 1911.
Moving first to Ladner in the Fraser delta to take advantage of the flat country, Gibson then transferred his flying activities to Kamloops and finally Calgary. By this time, he had given up piloting his own machine due to his wife s objections, and another pilot was hired. However, an unscrupulous promoter who was attempting to profit from Gibson s work soon forced the inventor's retirement, ending a brief but outstanding career in aviation.